Friday, Jun 03 2022 01:00 PM - Sunday, Jun 05 2022 12:00 PM
Historic French Quarter of New Orleans | Hotel Monteleone
This spring's CLEW (Continuing Legal Education Weekend) will be held in-person June 3rd, 4th and 5th 2022 at the beautiful Hotel Monteleone in the historic French Quarter of New Orleans.
Hotel Monteleone is one of the last great family-owned-and-operated hotels in New Orleans. Since 1886, five generations of Monteleones have dedicated themselves to making their hotel what it was — and still is — a sparkling jewel in the heart of the French Quarter. The Hotel houses its own restaurant Criollo and the historic Carousel Bar & Lounge.
For information about the hotel you may visit: https://hotelmonteleone.com
The CLEW will start with lunch on Friday. Our weekend will include our popular annual updates on the UCC, Bankruptcy and Ethics. We will also cover a number of exciting new topics. You will have the opportunity to earn 2 CLE credits in Ethics as well as 1 CLE credit in Diversity, Inclusion and the Elimination of Bias.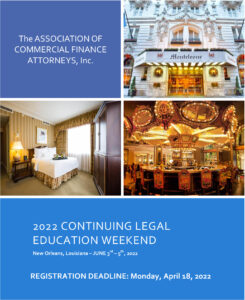 Register